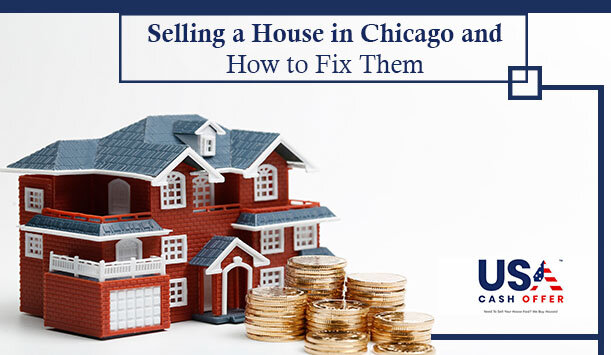 Are you selling a house in Chicago? Selling a home is a bumpy ride, and things may not always go as planned. On average, it can take a few weeks to months or even a year before you find the right buyer and finish the sale.
Several things can go wrong along the way. But, in this post, we list the top things that can go wrong when selling a house in Chicago and the best ways to overcome these hurdles.
1. Buyer Financing Troubles
Most buyer offers do not go through or get delayed due to buyer financing issues. The best way to avoid this is by vetting prospective buyers thoroughly. Look for buyers with preapproved offers as they can move forward quickly and get the loan package within a few days.
2. Title Troubles
The title of your home is a legal document that proves the ownership of the property and land. Before you sell your home, you have to get a title company to review your records and ensure that you have the right to sell the house. Even seemingly minor issues like misspelled names or missed tax obligations can delay the sale. If you have a title problem, make sure to follow up and check any liens against the property.
3. Home Inspection Woes
During the selling process, buyers appoint professional home inspectors to review the property and check if it meets all compliance issues. The buyer only agrees to the seller's conditions after reviewing the home inspection report. Points mentioned in the home inspection report may dissuade buyers from purchasing your property.
If you're having trouble with the home inspection, you have two choices. Either fix the issue or sell your home to a cash home buyer in Chicago. The second option ensures that you complete the sale quickly without spending money on repairs.
4. Closing Document Issues
While closing-day document troubles are minor and can be sorted, some can halt the sale. One standard error we see on the closing day is misspelled middle names. To avoid this issue, make sure to request all closing documents in advance and review them carefully.
5. Buyer Gets Cold Feet
The buyer getting cold feet is more common than you may think. Even the most interested buyers can have a last-minute change of heart and can drop the sale. While this is devastating, you can breathe easy knowing that sellers don't walk away empty-handed when buyers get cold feet on closing day. When buyers don't go forward with the deal, the seller keeps the earnest money deposit.
With the proper preparation, you can avoid these five worst-case scenarios. If you would like to skip the hassle and sell a house fast in Chicago, reach out to the team at USA Cash Offer. We can connect you with the best cash buyers in Chicago to complete the sale quickly rather than dealing with the agents.
We buy houses all over the USA, including the following: