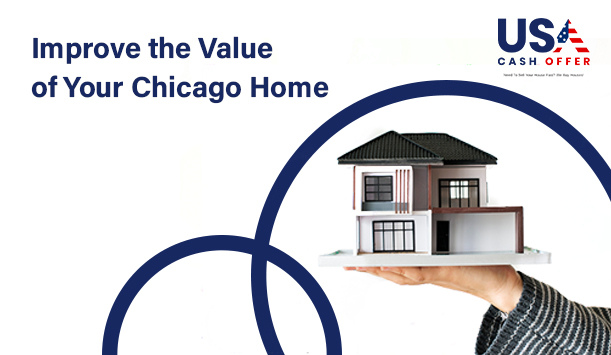 Selling your home is a multi-stage process and involves some crucial decision-making. One of them is setting the right price for your home. The price you set on your home is determined by various factors, creating the value that your house can offer to the buyer.
So, how can you improve the value of your home to sell a house fast in Chicago and get the best price? Here are the five simple ways you can increase the value of your home.
Repair Your Home
Get the necessary repairs done. Fix any major plumbing or electrical problems, and give the home a fresh coat of paint if needed. If you have kept up on major home maintenance, it will show. It will make your home look better and boost your home's value.
Improve Curb Appeal
Improving the outside of your home can make potential buyers more interested in seeing the inside. You could add new landscaping, outdoor lighting, and other upgrades. Consider adding a driveway or front yard gate to improve the appearance so that you can sell your house fast in Chicago.
Revamp Your Kitchen and Bathrooms
These two spaces see a lot of wear and tear. Over time, bathrooms and kitchens can get worn, ugly, and outdated. Have a professional home remodeler do a kitchen and bathroom makeover that helps change your home's look and feel.
If you think these upgrade projects will cost too much, you can work with cash home buyers in Chicago. They will buy your home as-is and pay in cash. Contact us today for more information.
Get Rid of Your Junk
Decluttering your home can be a daunting task, but it is well worth it. You can eliminate anything taking up space in your home that you don't want. Get rid of old furniture and anything that is broken. Removing these items makes it easier for buyers to see the spaces as they will look when they move.
Go Green with Energy-Efficient Features and Appliances
With so much buzz around energy efficiency, eco-friendly upgrades can make a difference. You are saving money while still in the house, and when it is time to sell, you can easily quote a higher price.
The best way to get the highest price for your home is to make sure it is in tip-top condition. Buyers will love the upgrades you have done to your home, and they will be able to see the difference. Check out some of the areas below where we buy houses:
We buy houses all over the USA, including the following
If you're looking to sell your home for the best price without making any repairs, contact us for a no-obligation cash offer.
We have top real estate investors who will buy your house as-is for cash. There are no commissions or closing fees.