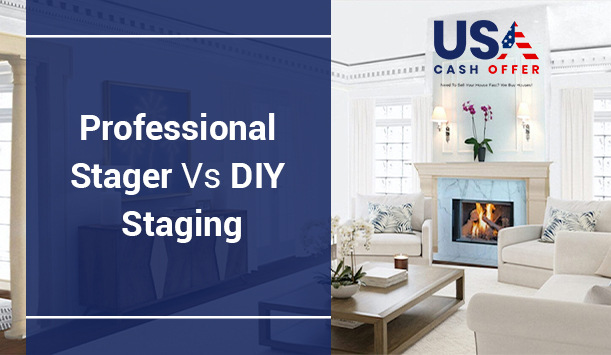 Just because you're trying to sell a house fast doesn't mean you can't try to get a fair price as well. And if getting a fair price is priority number one, you need to focus on the staging. The main reason is that buyers can visualize living in a home if it's staged well, and they'll pay what they have to if the house is genuinely a good fit.
But is it better to hire a professional home stager or go the DIY route? Let's look at this question in depth to find an answer.
1. Final Product
When you hire a professional, you're paying for the guarantee that the job will get done right. And it's likely the job will get done quickly, especially if there's a team working for you. But if you decide to do things on your own, you risk not finishing or reaching a final result that isn't polished.
That said, there's nothing a little time, patience, and practice can't achieve. With the right tools and attitude, you can stage your home beautifully to attract numerous buyers.
2. Cost
A professional stager will obviously cost more. But think about what you're paying for. A newer home may not need much work to look beautiful and appealing to buyers. An older home, on the other hand, will require more work. So consider your home's current condition when considering hiring a professional stager.
3. Time
Staging can be a time-consuming job, and DIY staging may take days or even weeks to complete. But if the thought that keeps going through your head is, "I need to sell my house fast," then hiring a professional stager is the way to go, as they'll be speedy. Plus, they'll make your home look its best.
4. Convenience
Do you think you can live in a home that's being staged? You can, but it's tough. Most people just move their personal belongings to off-property storage until staging is complete. Even after you do the staging, you won't be able to use the house until it's sold. This may work for couples, but it's nearly impossible for a family with kids.
In most cases, a professional stager will do a great job. They'll have the experience and skills needed to make your home look attractive, and they'll work with your best interests in mind. But that doesn't mean you can't achieve similar results. With some creativity and elbow grease, you can make your home look first-rate.
If you find staging and other preparations taxing and costly, simply sell your house for cash. Cash home buyers will buy your home as is; you won't need to do repairs or staging. We can also close in as little as 30 days so you can move on quickly!
We buy houses all over the USA, including the following: