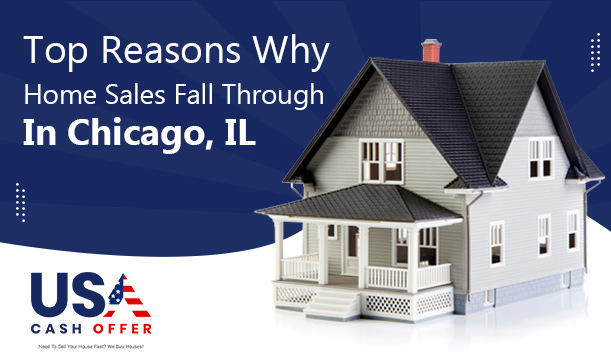 While the majority of home sales go off without a hitch, some fall through at the last minute. This can be a stressful and anxiety-inducing experience, especially if it happens suddenly and without warning. There are several reasons why a home sale might fall through, but some are more common than others. Let's explore the top reasons below so you can be prepared when it's time for you to sell your house fast in Chicago.
1. Missing Key Documents
You might be missing the title report, insurance papers, tax papers, or other important documents that are needed to complete a sale. These papers are necessary, as they'll prove you own the property, so missing them can cause a delay or even cancel the sale altogether.
2. Incomplete Inspections
If the home has not been properly inspected, or not certified by a professional, a buyer can refuse to go through with the purchase. Home inspections are mandated in several states, and some lenders will only approve a mortgage after a complete home inspection has been conducted. So if you're thinking "I need to sell my house fast in Chicago," then it's best to get required inspections and appraisals completed on time.
3. Major Repairs Or Problems
If you agreed to fix any major problems with the house, the buyer will expect them to be done before the sale is complete. This might include fixing a leaky roof, replacing a broken window, or addressing any health and safety concerns. Buyers are allowed a "final walkthrough" before they sign the documents, and if they find out that these issues have not been addressed, they can call off the sale.
4. Mortgage Not Approved
Even if all the documents are in order, the buyer might be denied a mortgage. They could have a low credit score, an insufficient down payment, or something else that causes the rejection. Unfortunately, there's not much you can do on your end if this happens.
5. Buyers Get Cold Feet
Sometimes out of the blue, a buyer will have a change of heart about buying the house. They might feel that they've made a hasty decision or that they've found a better property elsewhere. In such cases, you can try to renegotiate with the buyer to see if they're willing to go ahead with the sale. However, if they're firm in their decision, you'll have to start your search for a buyer all over again.
Even though a home sale falling through can be a very stressful experience, it's not uncommon. As a homeowner, you have to be prepared to accept that things might not go according to plan and that it might take some time to find a genuine buyer.
But why go through such a stressful process when you can just sell your house for cash? A cash home buyer in Chicago will buy your house as is, so you won't need to wait for lender approval or worry about repairs.
We buy houses in Chicago for cash. Our fair cash offer will be based on the current market value of your property and other relevant factors. We can close in 30 days or less if you accept our offer!
We buy houses all over the USA, including the following
Call us today and our team will be more than happy to assist you!