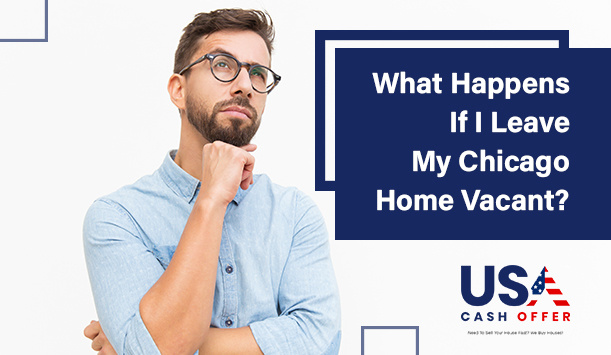 Leaving your Chicago home vacant is dangerous, making it a target for thieves and squatters. Also, an empty, unmaintained home won't fetch as much when it comes time to sell the property. And it makes it harder to find a quick buyer when you need to sell your house fast in Chicago.
Theft
A vacant home is an easy target for burglars. You are leaving your valuables vulnerable and unattended for long periods, but you're also leaving yourself vulnerable to an intruder. You can take simple precautions like installing additional locks, surveillance, and alarm systems. However, these steps could be a hassle, requiring extra time and money to set up and maintain.
Liens and Fines Due to Unpaid Bills
If you have moved to a different city, you may be unable to pay taxes on time. Not paying taxes can lead to a lien being placed on your home. Then, there is the possibility of hefty fines for not paying your utilities on time.
If you own a burdensome property, it's better to sell your home quickly for cash. You can contact any cash home buyers in Chicago for a quick offer within 24 hours.
The Trouble with the HOA
If your house is part of a Homeowner Association (HOA), you must pay fees. An HOA typically has the authority to levy late fees and place a lien on an owner's property for unpaid amounts. They can sometimes prohibit delinquent owners from using any common areas in the development until they are current on all payments.
To avoid such issues, ensure all outstanding dues and fees are paid before you leave and stay current during your absence.
Damage to Electrical Wiring and Water Pipelines
A prolonged vacancy increases the risk of damage by weather, fire, or other natural elements. The lack of maintenance can cause issues with internal wiring, water pipes, heating, and the structure. Plus, if a minor problem does occur, it can go unnoticed until it causes a more significant issue.
There are many reasons families find that they need to move. Your jobs, families, and interests may take you to various locations. As a result, you must vacate your home and relocate. And when the time comes to sell, it may not be in the best condition to get you the best price.
If you want to sell your vacant property, you can contact real estate investors for a fair price. We have reliable cash home buyers in Chicago who will buy your home as-is for cash.
We buy properties all over the USA, including the following