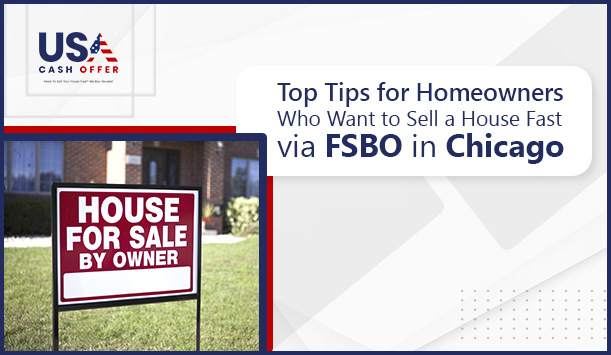 The "for sale by owner" (FSBO) home-selling method is becoming more popular in the Chicago real estate market, mainly because homeowners see this selling method as more affordable than hiring an agent to sell the traditional way. While this method does have many benefits associated with it, most people don't know all that much about how the FSBO method of selling works. If you've been wondering how to sell a house fast in Chicago via FSBO, this blog is for you.
Research Research Research
Since you have decided to forego the luxury of hiring a realtor to do all the hard work for you, your primary task should be to research and acquire knowledge about the Chicago real estate market scene and current trends. You should explore comparable houses in the area that just sold; pay attention to what these houses sold for. Do in-depth research before setting a price for your home.
Explore Non-Conventional Methods
If you pursue the FSBO method, you can avoid the hassles associated with a typical home sale. You can also consider selling to a cash home buyer, an iBuyer, or a wholesale home buyer. All of these selling methods are hassle-free and ensure a quick closing. Best of all, these methods avoid all the work that comes with a regular FSBO sale.
The best option is to sell your house to a cash home buyer in Chicago for a fair price.
We buy houses all over the USA, including the following.
Get Your House Ready
Get to know your house better. Be honest about what its good and bad qualities are. You can do a pre-inspection to see which flaws are present, and an inspection will also give you an idea of which repairs are necessary. While you can conduct many repairs and improvements yourself, you should get a professional to handle the more complicated ones. It would help if you also did general decluttering to make the house seem more spacious.
Set a Fair Price
Set up an appraisal to know the exact value of your house. After this, you can set the price for your home. But before you do so, talk to people in your neighborhood to see what recently sold homes have sold for. You can also consult experts to know more about a fair price.
Market Your House
One expense you should not think twice about is hiring a professional photographer. Get professional photos of your house that show it in a desirable light. Also, you can market your home in a variety of ways. Try putting up a yard sign, distributing flyers, posting on social media, etc. You can also list your house online and list it on the MLS.
Stage Your House and Be Available
You can stage your house yourself or get a professional to make it more appealing. Once the staging is done, you should make yourself more available, as potential buyers will approach you wanting to schedule viewings. You should be flexible with your time and accommodate their schedules.